Traditional Champagne Balloon Flight Information
Slung from a giant pillow of air in a wicker perch, you are spirited away on an elusive adventure that others can only dream of.
What times do you fly?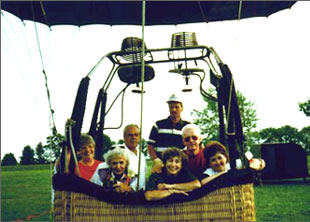 Heaven Bound Ascensions will take you on a magical excursion at the most beautiful times of day which occur just after sunrise and about two hours before sunset. Dawn and dusk provide the most romantic setting imaginable and exceptional dramatic lighting for all photographs.
Where do we land?
Balloons can't be steered, we follow the wind. The sky is layered with air currents, so the pilot heats or cools the air inside the balloon with the burner to rise or lower into different wind directions. In the area we fly in there are many open fields in which we are welcome to land. When the pilot finds the appropriate landing site he will begin a descent where our experienced retrieval crew will meet us.
What does it feel like?
Once aloft you will notice no turbulence or wind movement as you become one with the air currents. The feeling is one of peace as you drift over treetops and float over the countryside in a gentle, panoramic harmony with nature.
How long and high do we fly?
We will fly approximately 45 minutes but plan on approximately three hours for your entire ballooning experience. Balloons normally fly between 200 and 3000 feet, all within federal aviation regulations.
For Your Reference
Thank you for the purchase of a Hot Air Balloon ride.
The sport of Hot Air Ballooning is becoming very popular and our flight schedule books up quickly, so please plan ahead. Schedule your flight well in advance (at least three weeks) so you can receive the date you want. Persons holding gift certificates note the expiration date on the back of your certificate. THEY DO EXPIRE.
Our flying season officially begins May 15th and flights are booked on a first come-first serve basis. Don't wait until the last minute to book your ride!!!
We use a number of launch sites, depending on the wind direction. We will call you on the day of your flight between 3:00 and 4:00 PM to let you know the exact location and time of your ride if you have scheduled an evening flight. We will call you between 10:00 and 11:00 PM the evening before your flight if you have scheduled a morning flight.
Please remember, we are at the mercy of the weather when we fly, and to assure your safety, fly only in the best possible conditions.
Please be patient if the weather does not cooperate, we will get your flight off, it just may take more than one date.
Our basket accommodates up to six people if total passenger weight fits within our aircraft specifications.
PLEASE NOTE OUR REFUND POLICY AND EXPIRATION DATE POLICY:
A 50% booking fee will be retained on any ride certificate requiring a refund. (To the original purchaser only!!!)
NO REFUNDS OF ANY KIND WILL BE MADE AFTER THE EXPIRATION DATE OF THE CERTIFICATE.
Once a ride has been booked, if cancelled by the certificate holder in less than 72 hours prior to the flight - NO REFUNDS OR RESCHEDULING WILL BE DONE!!!
Thank you for choosing Heaven Bound Ascensions for your Hot Air Balloon Ride, we look forward to serving you.
---
GUIDELINES FOR A SAFE AND ENJOYABLE FLIGHT
We suggest that you wear comfortable outdoor clothing on the day of your flight. Dress for being in fields (for landing) by wearing full shoes or boots and long pants.
DO NOT WEAR OPEN-TOED SHOES OR HIGH HEELS.
We encourage you to bring your camera for photographs prior to and upon landing. Video cameras, telephoto lenses and camera bags are not permitted in our balloons.
WE WILL NOT BE RESPONSIBLE FOR CAMERA EQUIPMENT TAKEN ON BOARD THE BALLOONS.
NO SMOKING will be permitted in or around the balloon, before or during the flight for everyone's safety.
Children under the age of 12 are not permitted to be passengers in our balloons.
All passengers should be in good physical health. Individuals with heart conditions, back problems, physical handicaps, pregnancy, fainting spells or recent surgeries (within 6 months) of any kind should consult your physician before making flight arrangements.
If prior to your flight, you find additional friends who would also like to join you on your flight, please contact us to see if space is available.
Intoxicated persons will not be permitted to fly!!!