Gift Certificates
|
Flight Information
|
Pricing
| Launch Sites |
Balloon Home

Please Review Our Current Covid-19 Safety Policies
Click Here
Give the unique gift of a hot air balloon ride gift certificate, and make someones holiday spectacular!
Make your loved ones' bucket list come true this holiday season!
Take advantage of our 1/2 price holiday special today!
purchase a ride for one person at the regular price of $350 and add a second person for half price.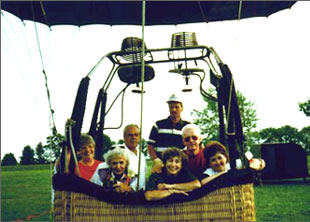 Tallmadge
Carter Lumber Offices
Near the corner of I76 and Tallmage
Rd. (18) in Brimfield
click to view Yahoo Map!
Stow
Silver Springs Park
In Stow on Stow Rd.
click to view Yahoo Map!
Ravenna
Ravenna Stadium
Chestnut street in Ravenna, Oh 
The Community Bible Church
on County Rd 18 in Rootstown, OH 44272 
click to view Yahoo Map!